DEEPPASTE Onion Links V3 – DEEPPASTE is a website similar to PasteBin in which users can store and share plain-text with everybody anonymously using a specific link. It's a very simple tool to share your text online with your friends and colleagues for example. DEEPPASTE is very different from other traditional paste bin websites in a way that it's totally uncensored, where free speech is valued and nothing will ever be censored or deleted.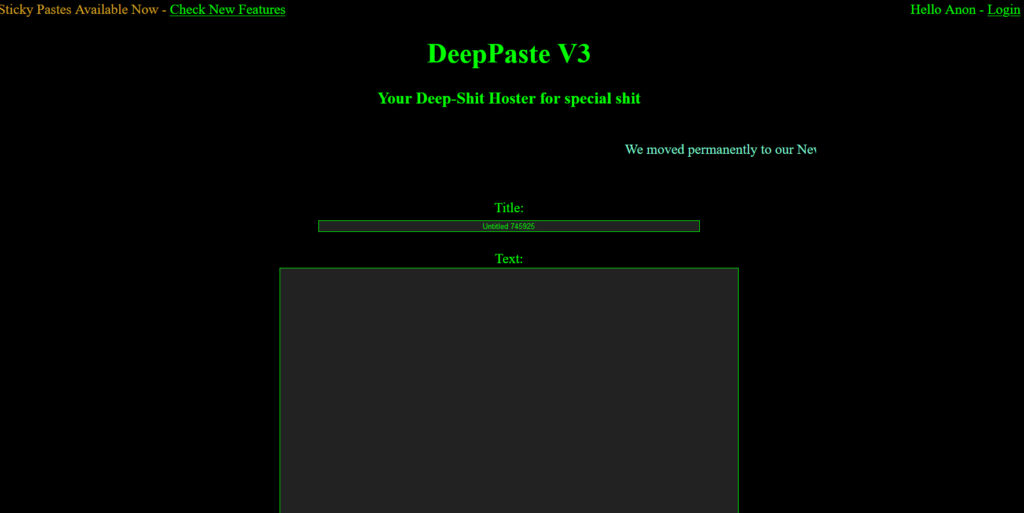 DEEPPASTE Onion Links V3
http://deepv2w7p33xa4pwxzwi2ps4j62gfxpyp44ezjbmpttxz3owlsp4ljid.onion
What is DEEPPASTE and how it works?
DeepPaste is a simple pastebin like website for sharing text online developed by anonymous programmers for the dark web/deep web only. It can be reached via Tor Browser only just like other of Onions we already covered on our website. This website is completely anonymous, it does not require any kind of special scripts and does not use any sort if third-party code to operate. There is no filters enabled on this website which made it a heaven for free speech enthusiasts.
On DEEP Paste V3 you have a public index of last public pastes where you can see what other users shared, a top public pastes – which essentially is a top 100 most rated pastes. Also there is a sticky paste which allows anyone to sticky post their text for an additional small fee. On this website you also have a feature called "Search Pastes" where you can search for particular paste bin text using a keyword or an MD5 Hash (a private-pastes). You also have a possibility to create a self-destroying text which will be deleted once read by recipient you shared it with.
In order to publish your text, please paste whatever you have to share within the text box, choose visibility between public, private, unlisted and paid-sticky. Once you did that, solve the captcha and publish your text. Now you've ready to share it by just coping the link in your browser.