Tor Market Links 2023 – Tor Market is a simple and light-weight multi-vendor darknet marketplace created in order to make trading less risky compared to using well-known and large darknet markets. Tor Market first established itself in 2018 as a market for New Zealand customers only however it soon expanded it's operation for Australian and Europe markets too. In this article I will try to cover this market in detail and give my honest review. In order to use this market you will need to have Tor Browser downloaded and installed, which you can do so here.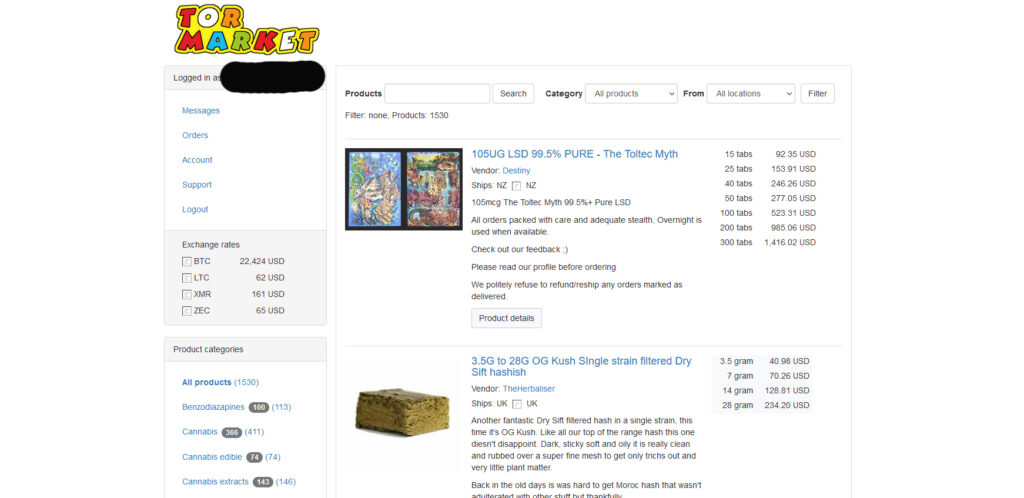 Tor Market Links
http://rrlm2f22lpqgfhyydqkxxzv6snwo5qvc2krjt2q557l7z4te7fsvhbid.onion
Tor Market Alternative Links / URL
http://p5ay4zakxz4rn4rmvx6c3vj3fj2jlzbsgg5a2xrgrjzg2tsw2uogmuyd.onion
Tor Market Overview
This is a simple darknet market created to make trading less risky than using the large well known darknet markets. History has shown that the larger a market website grows, the more headwinds it faces to continue operation. When they eventually fail, users often lose a lot of money. The goal of this site is to maintain stability and uptime for the long term.
Many past darknet markets have implemented their wallets live, accessible to the web server so once hacked it is impossible for them to recover. This site implements the wallet and payment systems in a separate location isolated over the TOR network. This is a direct pay market, which means there is no balance of funds maintained on the market.
Tor Market is free for anyone to create a buyer account. To become a vendor a bond payment is required. Bond can be waived for established vendors.
Some features of the market are: 2FA login, no-escrow, single payment for multiple orders, product cloning, stock quantity management, vendor order queue to reduce rate of new orders, custom products for a single buyer, automatic payments to vendors using unique addresses for enhanced privacy, export order list, private URLs, very simple and quick order process, feedback system.
To prevent deanonymization of users there is no use of client side scripting languages. This means you should have javascript disabled when visiting this site.
The website operator provides an escrow service and dispute resolution so vendors receive funds after buyers have finalized their orders.
The security of funds is top priority and is achieved by separating the wallet from the web server. The web server has no way to contact the wallet or even know its location. The code is custom written by authors with experience in web application security. PHP is not used.
The market provides a solution for vendors to advertise products and manage the order process, while minimising costs by using a shared platform. Most of the features have been added to simplify order managment by vendors, while the buyer feature set is minimal.
Cryptocurrencies supported
Bitcoin, Litecoin, Monero, Zcash are the only payment methods. Vendors set the payment methods they accept on each product. Payments by the market to users are always made in the same currency that the order was paid with.
Market rules and policies
Product listings must be medications, drugs and drug paraphernalia.
No fentanyl or its analogs.
No fake drugs or inaccurate descriptions.
No USA vendors.
No impersonating other vendors. Avoid similar vendor names.
Do not deceive other users of the system.
Do not program automated requests without asking permission first.
Personal information in messages, orders, and support tickets must be encrypted with PGP. This includes tracking numbers, and address details.
If a vendor does not visit this site for 7 days and not in vacation mode, their products listings may be automatically disabled.
The administrator may remove product listings and disable accounts to enforce these rules.
Payments owing to buyers from refunds, expired, or declined orders will be held for 21 days waiting for buyer to enter the wallet address. After 21 days the funds may be removed from the system.
Russian vendors can request a lower commission rate of 3.5%.
Review
Tor Market is a good, fast and reliable market with smaller section of vendors that would be good for UK, Australian, Europe and New Zealand customers. There are currently 1530 products at this time of writing, with majority being Cannabis, Psychedelics and Stimulants. Admins and moderators are fast in mediating disputes and banning scammers from their site. Market is wallet-less, it's almost always online and it's very easy to use which should be good for newbies. It has a track-record of almost 4 years operating without any major issues. All in all this market can be trusted and you should use it without fear if you can find your vendors on there. Don't forget to visit our Onions page of the website to check for more onions and dark web markets.