Stronghold Paste Onion Link – Stronghold Paste is a Tor pastebin website similar to pastebin but just on an .onion network. The idea of this website is to leave any kind of text in a free and anonymous way which you can there share with your friends or just by via social media. Stronghold is a free, simply to use, anonymous and uncensored version of paste bin website.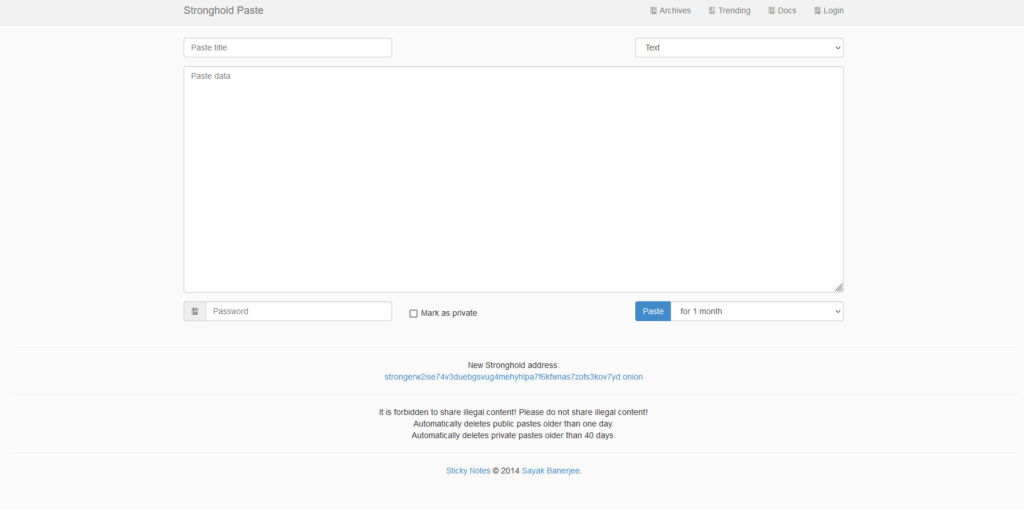 Stronghold Paste Onion Link:
http://strongerw2ise74v3duebgsvug4mehyhlpa7f6kfwnas7zofs3kov7yd.onion
How it works?
Stronghold paste works in very similar way as DEEPPASTE with a little bit more features and anonymity. On this website you can paste a simple text or it can be a wide-range of scripts or programming languages like Ruby, Python, C++. You can password-protect your paste and make it private while also there is a possibility to choose the time it will be visible to public or private recipients until it's destroyed, which can be anywhere from 30 minutes to 1 year.
Just like other dark web paste bin websites, Stronghold also has a trending and archives options. Archives option let's you to browse for all publicly posted pastebin's on this website, while trending is a top list of most-rated ones.
Stronghold Paste Rules:
It is forbidden to share illegal content! Please do not share illegal content!
Automatically deletes public pastes older than one day.
Automatically deletes private pastes older than 40 days.