The Hidden Wiki Onion Link 2023 – The Hidden Wiki is a dark web MediaWiki website similar to Wikipedia operating on the Tor Network as a Tor Hideen Service. The Hideen Wiki can be anonymously contributed by editing parts of the articles on the website after registration. It's main purpose is to act as a directory of links to other .onion websites.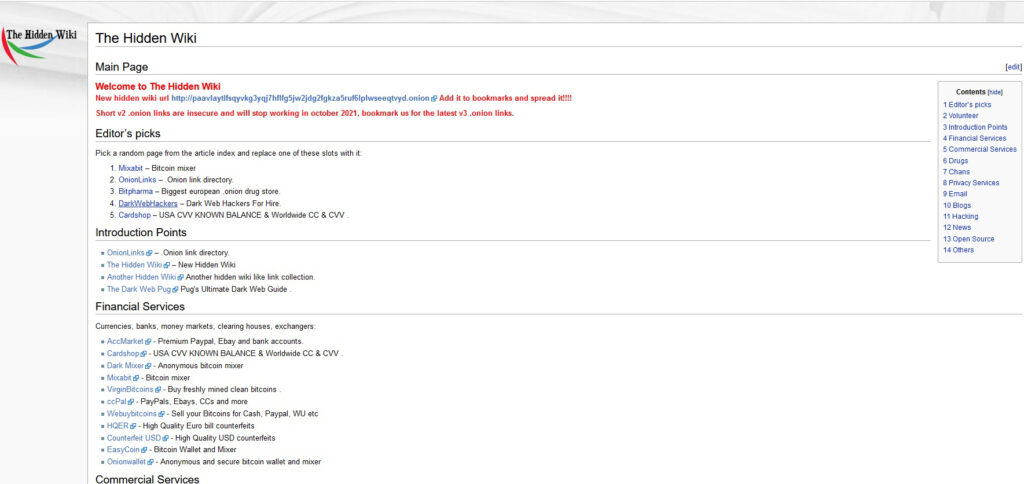 The Hidden Wiki Onion Link for 2023:
paavlaytlfsqyvkg3yqj7hflfg5jw2jdg2fgkza5ruf6lplwseeqtvyd.onion
History:
A Hidden Wiki is a directory website operated on the Tor network that lists other .onion websites. The first Hidden wiki website was created in 2007 and operated through a .onion pseudo top-level domain. It's main page had a editor's picks at the top which featured a few of the best picked websites of the month, following a list of categories which are community-maintained, among them a large portion of illegal websites such as offers to money laundering, contract killings, drugs, guns, chemicals, hackers for hire and credit cards data for sale. A lot of the parts of original Hidden Wiki was also uncensored at the time offering links for child pornography websites on the Tor Network.
It become more popular with it's second version created in somewhere before October of 2011. At some point and before 2013 the website was hosted by notorius Freedom Hosting which got busted in FBI operation. In March of 2014 the website was apparently hacked which was repoted by news such as VICE. The site was shut down in November of 2014 due to FBI's Operation Onymous.
New Versions:
Currently there are several newer versions of this website some of them being exact replicas of the original one due to constant downtime of the main link. One of the most popular and famous of them are The Dark Web Pug's Ultimate Guide To The Dark Web.