TorBox Email Onion Link – TorBox is a hidden mailbox service only accessible from Tor Onion Network. There is no connection between TorBox servers and public (Clearnet) internet. All messages are sent and received within TorBox onion services. TorBox is one of the oldest email providers for used in the dark web to maintain privacy and anonymity. This email works like any other ordinary webmail having SMTP, POP3, IMAP, IRC and NNTP. All of their emails are encrypted but you should always add a extra layer of security with tools like PGP or GPG.
TorBox Email Onion Link:
http://torbox36ijlcevujx7mjb4oiusvwgvmue7jfn2cvutwa6kl6to3uyqad.onion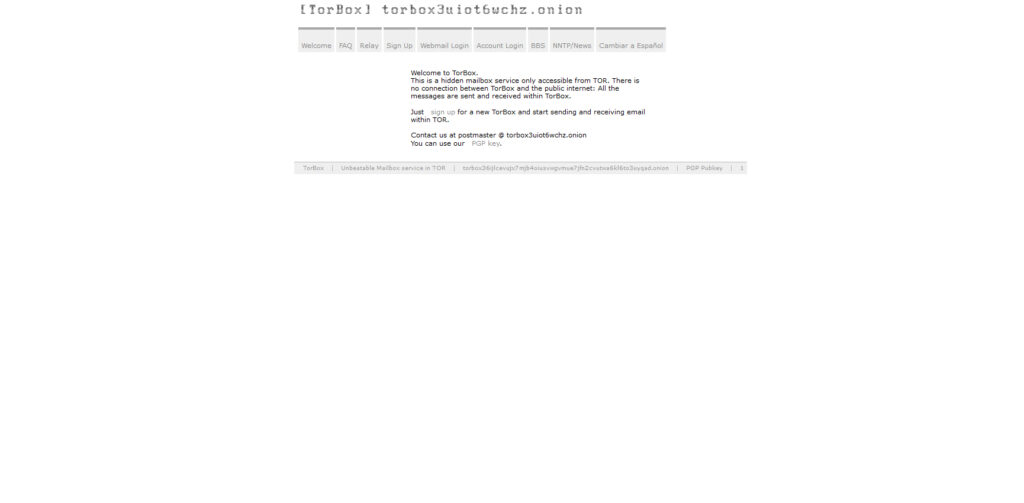 TorBox Email Overview:
TorBox emails comes as a free service which simply anybody can use. It's widely used by privacy enthusiast and activists around the world. Once you create your free account by clicking on Sign Up on their website page, you will receive a 25 mega bytes disk space assigned to your mailbox which you can use to send and receive emails. By simply donating a small fee to their project, you will be upgraded to over a gigabyte of disk space which is more than enough for all type of emails. The downside of this email is that you can not send any emails outside of the TorBox Network, meaning that you can not communicate with anyone from yahoo, gmail, protonmil or any other email service which is in order to ensure privacy of it's customers.
Every account have a webmail which can be accessed via squirrelmail and comes with SMTP and IMAP. This email uses standard email protocol and everything is encrypted including email data storage. TorBox is a perfect free email service for dark web purposes.