Nemesis Market Onion Links – Nemesis Market is one of the darknet markets we covered in our Darknet Markets Superlist and that we wanted to cover more in our today's article. In short, Nemesis Market is a community-oriented marketplace on the Tor Browser Network. It has a built-in forum similar to that of a Reddit-Like darknet forum, Dread. The forum itself looks pretty active and busy from what we observed. Nemesis Market also has a built-in Bitcoin mixing service , FE (Finalize Early) for trusted and established vendors, a support of two payment options Bitcoin and Monero and also there is no deposit or withdrawal fee like other competing markets are having. The market is according to it's administrators a wallet less one.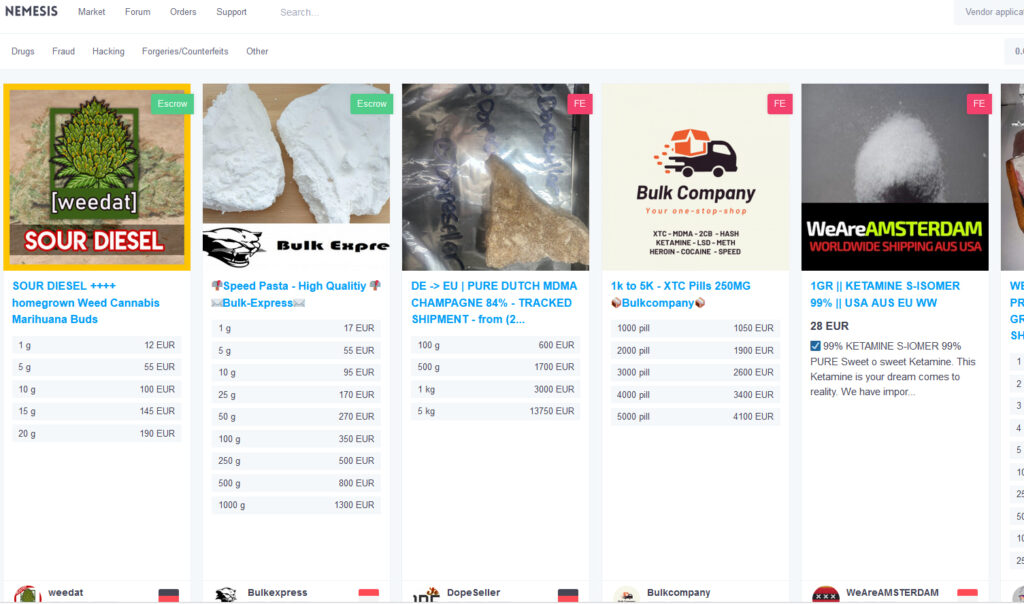 Nemesis Market Onion Links
nemesis555nchzn2dogee6mlc7xxgeeshqirmh3yzn4lo5cnd4s5a4yd.onion
Nemesis Market Alternative Links:
Nemesis Market is currently operating with only one official onion address starting with nemesis555 and ending with 4yd.
Overview
Nemesis Market has been established in May 2021 by administrator known online only as Francis. It currently has close to 10,000 listings some of which are drugs, counterfeiting and fraud, hacking and others. It supports a direct-pay payments for XMR and BTC which is a pay per order payments. This market is not enforcing PGP encryption site-wide and has a set of basic rules which included banning and forbidding the sale of child pornography materials, assassination services, weapons and explosives, fentanyl, poisons and acids.
Is Nemesis Market Legit?
At this current moment it's very hard to establish a trust with this market considering that there are a lot of people complaining on missing deposits and funds and that website support is non-existent. As always, we advise extreme caution with dealing with any of the newer markets. Never spend more than what you initially can lose and cope with in case of not getting what you paid for. Please leave a comment below and let us know about your experience with this market.