DarkDir Onion Directory Link – DarkDir or Dark Directory is a onion directory website listing dedicated to monitoring and studying a wide range of Tor Network websites. It's has been created in 2017 by anonymous group of developers and it's probably one of the oldest and most resilient darknet directories in existence.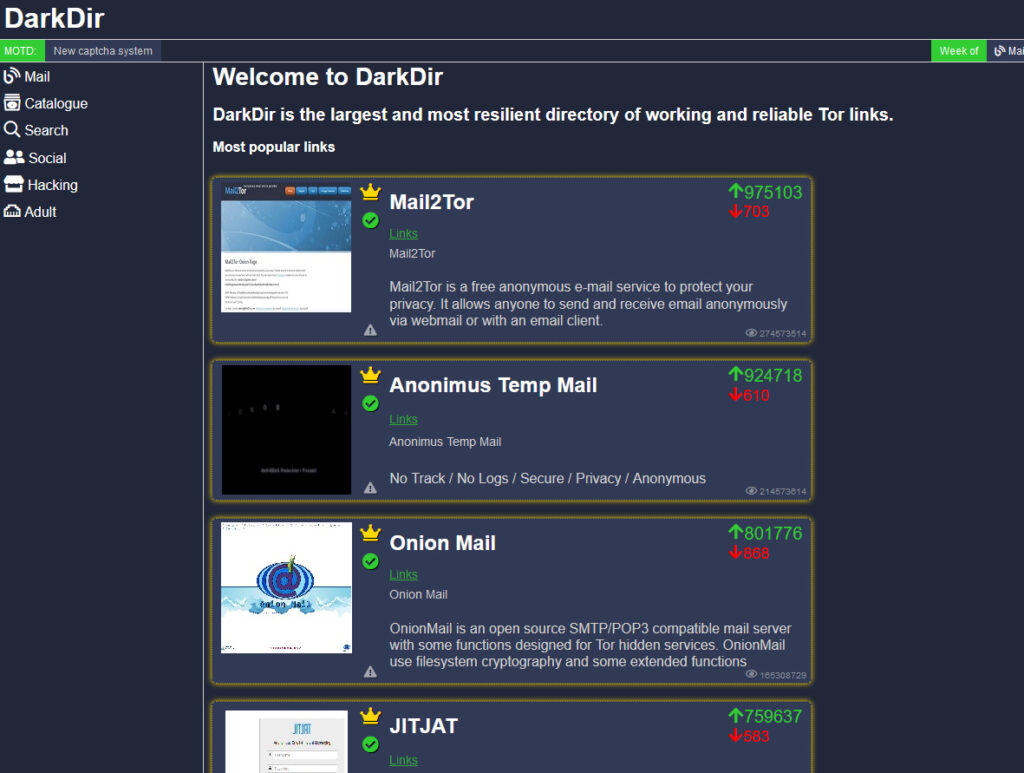 DarkDir Onion Directory Link:
http://darkvjjqhhra42p2jjkxncew54soje2655wd6foxxpythwsnoac5ziyd.onion/
What is Tor Directory?
Tor Directory Listing websites like the one above are basically a link aggregator websites where you can find links to various dark web websites based on category such as hacking, drugs, guns and similar. In most of the times it also features a vote feature where you can up or downvote a link signaling to other users it's quality, stability, performance and trust of use.
What I can find on DarkDir?
DarkDir is currently hosting a couple of categories for darknet links going from Mail all the way to porn links. All of the links we saw during our observation are live and updated for V3 Onion service. Some of the websites in their directory may be illegal so you should stay away from accessing them.
The website itself is hosting a little more than 100 websites in total and you can report a scam websites to their administrators by clicking on a warning icon.
Is it safe to use Onion Directories like DarkDir?
Most of the times if you're just browsing these websites for your own research it's safe. Accessing and participating in illegal activities on the dark web is strictly forbidden by many countries laws and you should avoid doing so. These article has been made for educational purposes only and should be treated as such by our readers too. Please keep in mind that most of these websites may also trick users into leaving their sensitive information or just be pure scam websites which will take your money.
See also: UnderDir Onion Directory